The National Museum of Decorative Painting 2014 Exhibit
In 2013 Mary Jo Leisure was designated a LIVING TREASURE by the National Museum of Decorative Painting. This is the highest honor the Museum awards any artist. The designation is reserved for those who have exhibited the highest and artistic ethical standards, and are true innovators and creators of the art of decorative painting.
A Painted Garden with Mary Jo Leisure

Mary Jo has created a body of work over the past 50 years that is not only impressive, but ever evolving. While her work may have changed over the years, the one constant is her subtle use of color - her warm and cool tones, her lost and found edges, and most notably, her distinctive softness. As you view her work, you can see how beautifully she marries design to object. This skill has been honed over a lifetime of painting until it appears effortless.
She is most known for her delicate floral paintings with roses being her favorite flower to paint. In the works shown here, you can see roses in all colors, shapes, and sizes. Recently she began to express her love of color and nature with landscape painting. She has made the transition with ease. She paints the Kansas sky or a snow drift with the same softness that she paints the petal of a flower.
Exerpted from A Painted Garden with Mary Jo Leisure catalog presented by The National Museum of Decorative Painting
The artwork displayed above is now in private collections around the world.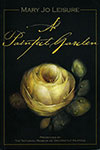 You may purchase the museum catalog, A Painted Garden, from The National Museum of Decorative Painting.The 96 page book is filled with beautiful photographs of Mary Jo Leisure's paintings created over her long and stellar career. The collection of work showcased here is but a snapshot in time. You will viewing each piece. There are also six lessons detailing her painting techniques.

Mary Jo Leisure
103 E. 6th St.
Pleasanton, KS 66075
Phone: (913) 352-6706
E-Mail: mjleisure@ckt.net
[ Home ] [ Shop ] [Order Status] [ Search ] [ View Cart ]
[ Shipping Terms ] [ Privacy Policy ] [ CHECKOUT ]